1,000 Gifts – Week #5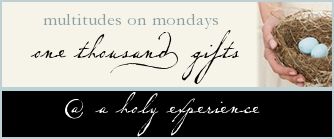 #26. Ann Voskamp. I seriously love this woman and am on a first name basis with her in my mind. I refer to her almost on a daily basis with my husband – "Yeah, today Ann posted the most amazing thing on xyz…" If you have not done it yet, get yourself to her blog, and more importantly, buy her new book One Thousand Gifts: A Dare to Live Fully Right Where You Are
. My copy arrived this week, and I can already tell you that I will not be lending it out.
#27. Bible study. A new semester has begun! I never realize how much I really need to be in the company of amazing women who love God until I am with them and then I wonder why I didn't do it sooner. I especially love learning from women who have been walking with Jesus longer than I have been alive. These are my true heroes (Psalm 16:3).
#28. That Jesus still heals our sicknesses and diseases. Preston, Abigail, and I all got our billionth cold of the season this week. Our family is contending for authority over sickness and disease just like Jesus promised we would have, so of course we have had our fair share of illnesses this Fall. Our faith muscles have been tested and are being strengthened! Alas, Jesus came, and all three of us were healed of our colds. To Jesus be the glory, and may He continue to strengthen us to walk in divine health!
#29. Parents who are willing to spend their Sunday hanging lights at our house and doing other "handy" jobs. I am pretty sure our walls would be mostly bare if it was not for them.
#30. In-laws who are willing to spend their Sunday night at our house while our kids sleep so that my beloved husband and I can go on a date. Some of you are hating me now. Yes, we have both sets of parents in town. No, I have never had to hire a babysitter. Yes, I do know how blessed we are.
#31. Blueberries. I don't care that they are not in season and that they have traveled 2,000 miles from Chile to get to us in Texas. Giving Preston blueberries after nap time restored my sanity this week. Let's see how long it continues.
#32. Dreams. The kind you have at night. I don't know what I would do if God did not speak to me in my dreams. I love hearing Him in this way. It makes me hunger for His presence more deeply and causes me to seek out the hidden treasures He is speaking in the night and at all times. Having insomnia in November and December was not only horrible because I was so tired I could not function, but I also missed the messages God would speak in the night. Thank You, Father, for restoring my sleep and blessing me with dreams from You.
#33. Hot tea on cold winter days. I have literally been putting four tea pots in the dishwasher each day. Four. It's a darn good thing we own a tea business because I would be spending a fortune this month on Lemon Lavender alone. I love it.
#34. Hope. That the seasons change – there is the dying that comes in winter, the rebirth in spring, the glory of summer, and the harvest that comes in fall. Each season is necessary and productive in its own way. Something is always happening. I am finally embracing the hiddenness of winter, knowing that a deep work is happening though it is not visible. I have great hope that the seed will sprout up in its timing.
#35. Courage. Doing something I was afraid to do, but doing it anyway. That is my definition of courage. And I did it this week. And it wasn't nearly as terrible as I thought it was going to be. Yep. This is the year that fear will no longer be a part of my life. For me, this is the Year of Jesus. And He was not afraid. Of anything. Or anyone.